Healthwatch Milton Keynes are proud to present our 2018/19 Annual Report.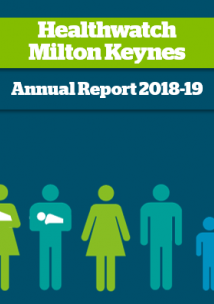 You can read all about the highlights from our year, the changes to your services as a result of our work, and how we have helped people get the answers they need. 
Highlights from our 2018/19 Annual Report include:
We have engaged with 1,254 people in the local community, 714 people more than last year
608 people accessed HWMK advice and information online, or contacted us with questions about local support, almost 8 times more than in 2017/18
We have published 28 reports this year, which have contained a total of 162 recommendations for improvement. 59% of these recommendations have been adopted by services to make health and care better in our community
"To try and give a voice to people who wouldn't normally have one is quite a responsibility but also a privilege"
Click the link below to read our 2018/19 Annual Report.