Patient Experience Week at Milton Keynes University Hospital
This week, our CEO Maxine Taffetani, was invited to visit the Patient and Family Engagement team at the Milton Keynes University Hospital, and was excited to see how they've been celebrating Patient Experience Week.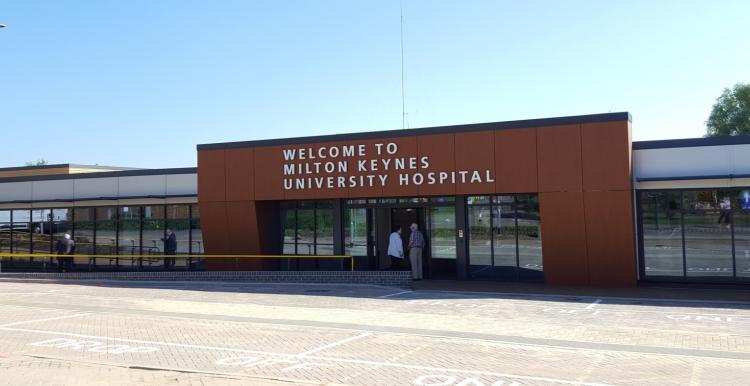 As part of my role as CEO at Healthwatch Milton Keynes, I sit on the Hospital's Council of Governors. As Governors, we provide an essential link between Milton Keynes University Hospital Trust's Board, the public, and hospital staff, to ensure that the ideas, feedback and concerns of local people are listened to and acted on.
At Healthwatch Milton Keynes, we keep a close eye on how health and care services listen to and act on the feedback from the people that use their services.
The Patient and Family Engagement team were in the sunshine outside the busy Eaglestone restaurant at the hospital, talking to hospital staff as they came by to get their lunch. They were keen to find out how they felt they'd made a difference to patient and family experiences over the last year. In particular, they wanted to hear what staff see as the most important things they can do to support positive patient experience.
It was clear that a huge amount of work is being invested into making it easier for patients and families to share their experiences of care at the hospital. Some of the initiatives they've introduced include: sending friendly reminders to complete the Friends and Families test by text; they're also introducing a QR code on each bedside locker, which will take patients to a website page with helpful information where they can share their experiences of care and treatment.
The team are also about to launch a trolley that will be available on wards and be dedicated to supporting positive experiences whilst in the hospital, filled with helpful items and information about sharing feedback.
The Team told me that the efforts made to encourage more feedback from patients and families is working well - the amount of feedback they're receiving has increased significantly. The hospital has invested in a system that's helping the team to analyse all the feedback they received.
I was shown their system and could see that the hospital has received over 16,000 pieces of feedback in the last three months. Through this new system, the team can pull out information about common themes and trends in experiences and break it down by ward. This makes it quick and easy for staff to see how patients and families are experiencing care when on their ward.
The Patient and Family Engagement Team are focused on raising awareness of how ward managers and staff at the hospital can use family and patient experiences to build on good practice and address areas for improvement. To help, the team are also launching a Patient Experience Toolkit for staff which is an online selection of tools and resources to support managers and their teams to gather and learn from patient stories.
As both the CEO of Healthwatch and Hospital Governor, it was fantastic to see the genuine passion that the Patient and Family Engagement team have for strengthening the opportunities for patients and families to share their experiences. The Team are clearly committed to developing tools and training for staff, so that they're able to use that information to celebrate and improve practice at the hospital.
I look forward to seeing how these initiatives support the continued improvement of patient and family experience at our hospital.
If you want to know more about how you can get more involved with patient experience and engagement at Milton Keynes hospital there is information about opportunities here.