How to get an NHS Dentist appointment in Milton Keynes
Everyone should be able to access good-quality NHS dental services. Find out how to get an NHS dentist appointment in Milton Keynes, what to do if you need urgent dental care and how much you should be charged.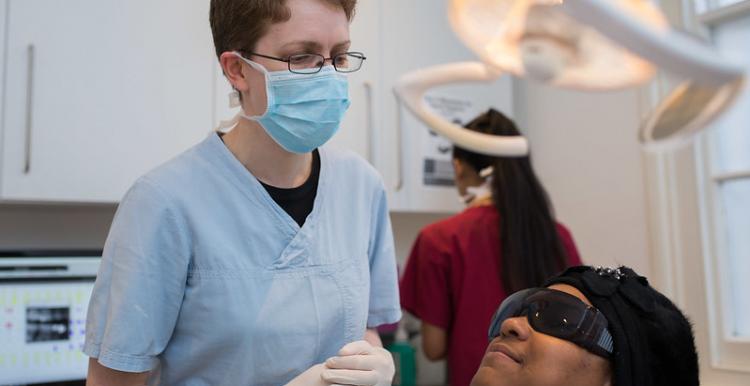 How to get an NHS dentist appointment
Use the NHS website to search for a dentist in Milton Keynes. The site also provides information on which dental practices are currently accepting new NHS patients, whether they offer urgent appointments, and how other people have rated the service. You can also contact the 8am-8pm service.
While this is a good starting point to finding a local dentist, people often tell us that these records aren't always kept updated, so you should contact the practice directly to find out more information. If the records are out of date, you should let the practice know. If you don't have access to the internet, you can call us here at Healthwatch Milton Keynes and we can look them up for you.
Find a dental practice that is convenient for you, whether it is near your home or work, and phone them to see if there are any appointments available. There is no need to register with a dentist in the same way as with a GP because you are not bound to a catchment area.
Once you find a dental surgery, you may have to fill in a registration form at your first visit, which is purely to add you to their patient database. However, that does not mean you have guaranteed access to an NHS dental appointment in the future and does not mean you can't go to a different dentist.
Dental practices won't always have the capacity to take on new NHS patients – you may have to join a waiting list or look for a different dentist who is taking on new NHS patients. 
Click here or more information about getting an NHS Dentist Appointment during the COVID-19 pandemic. 
What happens if you can't find an NHS dentist taking new patients?
Healthwatch Milton Keynes has been informed by the NHS England NHS Improvement (East of England) Head of Commissioning for Dentistry that during COVID-19 the 8-8 service in Milton Keynes should be accepting NHS patients for dental treatment other than routine check-ups. However, we are aware that some people are facing difficulties, so if you're struggling to find an NHS dentist which is taking on new patients, please contact us .
If you still cannot find a dentist accepting NHS patients, call NHS England's Customer Contact Centre on 0300 311 2233. NHS England commissions dental services in England and is required to meet the needs of their local population for both urgent and routine dental care.
What to do if you have a dental emergency?
If you need immediate care for your teeth, you should:
Ask your regular dentist whether they can offer an emergency appointment.
Phone NHS111 who can locate an urgent dental service.
Visit A&E if you experience severe pain, heavy bleeding, or injuries to the face, mouth or teeth. If you're not sure whether you should go to A&E, contact NHS 111, who will be able to advise you.
The emergency dentist will only deal with the immediate problem and provide clinically necessary treatment to stop any pain. An urgent dental treatment will always be charged at Band 1 (£23.80). If you are asked to come back for further treatment, this will be considered a separate course of non-urgent treatment. You will have to pay the relevant charge for the new course of treatment. Ask the dentist what the treatment will cost or whether you can have a treatment plan.
How much does dental treatment cost?
Most people will have to pay towards the cost of dental treatment, but some patients are exempt.
A basic routine examination, which includes diagnosis, advice, a scale and polish if clinically needed and some preventative care, costs £23.80 (December, 2020). However, if you require further dental treatment this will be an additional cost.
Find out more about what you should expect to pay for treatment.
If the treatment is clinically necessary, it will be covered under an NHS Band.  This means if your dentist tells you that you must have a scale and polish because it is clinically necessary, it will be covered under Band 1.  If they recommend it as a cosmetic treatment, they can refer you to their Hygienist and you will be charged private fees.
If you are receiving treatment under the a Band of treatment, all of the lower band Band treatments are included.  This means, for example, you will have the assessment, x-rays, and treatment planning as well as the Band 2 treatment required for just the Band 2 cost no matter how many appointments it takes.  This does not apply for separate courses of treatment so it is important to get a treatment plan to make sure everyone agrees what is included in that particular course of treatment.
Dental practices usually offer both NHS and private dental care. You should check whether you are paying for NHS, private treatment, or both before you begin your treatment. If you claim for free NHS Dental Treatment when you are not eligible for it, you could be fined. Discuss it with your dentist or call NHS England to find out the process and confirm your eligibility.
NHS dentists should always:
Explain which treatments are available on the NHS.
Explain which treatments are only available privately.
Make sure you know how much your NHS treatment and private treatment will cost.
Making a complaint about NHS Dentist Services
Commissioners for Milton Keynes Dental Services advise that any patients with concerns about access, care and treatment raise their concerns directly with NHSE. You must make an official complaint through the NHS England before Milton Keynes' Commissioners are able to act. 
If you have any trouble with this complaints process, please contact us. 
You can also check out advice from the Oral Health Foundation.
Review of NHS Dentist availability in Milton Keynes 2018
Through gathering patient feedback, we noticed a theme concerning access to NHS dentistry in Milton Keynes.
This included questions about how to access NHS dental services in Milton Keynes, what treatment is provided under the NHS, and complaints from people who have been told that the treatment they need would not be covered by the NHS. This project aimed to gather evidence to find out whether access to NHS funded dentistry is problematic for residents of Milton Keynes.