Journey across all of MK for £3.50 or less!
Want to book a ride straight from your phone, get picked up in minutes, and get dropped off steps from your destination?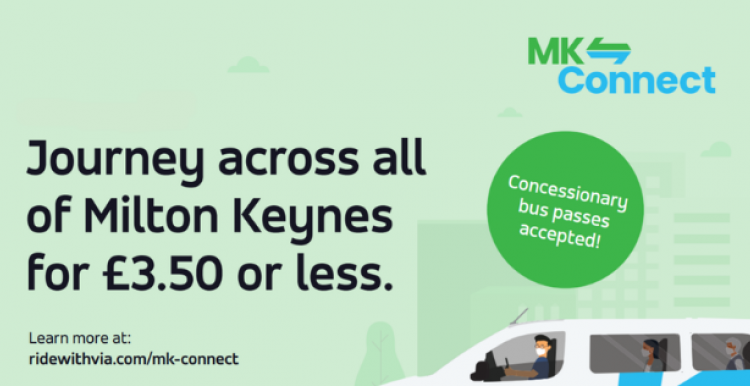 MK  Connect is a ride-share minibus service that meets you wherever you are, allowing you to travel whenever you'd like. 
How does it work? 
Book a trip using your smartphone, tablet, computer, or by calling, and walk a short distance to meet a vehicle.  
 
Single journeys cost £3.50 during peak hours (7am-9am, 4.30pm-6.30pm) and £2.50 at all other times. You can pay using concessionary bus passes, MK Move smart cards, and All in 1 MK cards.  
When does it operate? 
Monday-Saturday 6am-11pm. Sunday 9am-6pm.  
Where does it go? 
MK Connect covers the entire borough. There is no fixed route and you can travel anywhere within Milton Keynes. Popular destinations include: 
The Centre:mk 
MK Central Train Station 
The Open University 
Woburn Sands Train Station 
And many more.  
How do I get an MK Move card?  
An MK Move card is a fast, contactless payment option if you don't want to use a debit card. Visit www.getsmartertravelmk.org/on-board/smart-ticketing 
You can also buy your card at one of the on-street Ticket Vending Machines.  These are available at several locations around Milton Keynes. There is a £3 one off fee for purchasing the card. 
Do I need to wear a face mask? 
Yes, all passengers and drivers are required to wear a mask or face covering subject to Government COVID-19 regulations. You should not use the service if you have any COVID-19 symptoms or if you've been in close contact with someone who has the virus. 
Want to know more? 
Visit www.getsmartertravelmk.org/on-board/smart-ticketing/top-up-locations or www.ridewithvia.com/mk-connect  
How to get in touch: email support-mkn@ridewithvia.com  or call 01908 252526.