We were delighted to be joined by over 80 people at our AGM this year.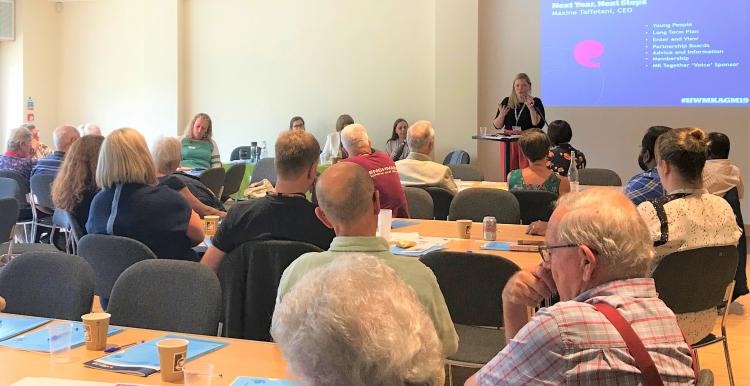 Our AGM began with three presentations highlighting the impact of some of our projects this year. Firstly, Tracy Keech (Deputy CEO) introduced our 'My Right to Healthcare' project. Tracy was joined by Laura Lucas (Practice Manager Lead at the GP Federation), who shared about the work the GP Federation are undertaking to standardise the GP registration process and ensure that identification is not a barrier to registration, in response to our report. 
Secondly, Nadine Lynch (Enter and View Coordinator) introduced our Care Homes Project. Hasib Khan, a new Care Home Manager at the time of our Enter and View visit to Bletchley House, spoke about the benefits of gaining an independent account of residents experiences through our report.
Thirdly, Tracy Keech introduced our Enter and View visit and follow-up visit to Windsor Intermediate Care Unit. Karen French and Melissa Cahill shared the changes that they have put in place in response to our recommendations, including the creation of the 'My Rehabilitation Journey' booklet.
Following this, Maxine Taffetani (CEO) presented our Annual Report, highlighting some of our key successes over the last year. This included a significant increase in the number of people that we have engaged with and offered advice and information to.
Attendees then took part in in an Engagement Activity to demonstrate the value of sharing your everyday experiences of health and care with us.
We asked those who attended to think about the last time they used a health or social care service, and tell us:
what as the most positive thing about your experience?
If you could change one thing about your experience, what would it be?
We collated these individual experiences by theme to identify common experiences that people are having. The table below shows the experiences we have gathered. Staff attitudes was overwhelmingly highlighted as the most positive aspect of people's experiences of health and social care services. Within Primary Care, access to services and communication with patients were common themes for both the 'most positive' part of people's experiences, and the biggest area for improvement. This suggests that there is a large degree of disparity between the quality of services in Primary Care.
Finally, Maxine Taffetani outlined our vision for the coming year. 
Click the link below to download the results from our AGM engagement activity.