Healthwatch Milton Keynes hosts Women and Theatre's production of Phyllis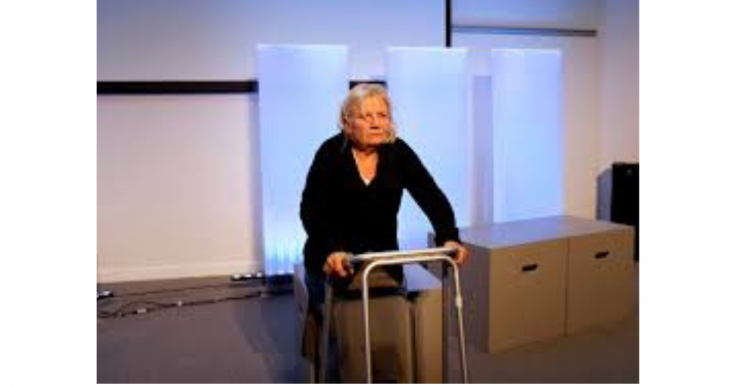 70 people from the Milton Keynes community and local NHS/Social Care services joined us on 14th March to watch Women and Theatre's production: Phyllis
Developed from research with patients, family members and health & social care professionals, Women & Theatre's production, Phyllis, presents the story of one family navigating the complex system of older people's care as they try to work out the best way to look after their aging mother.
As the population lives longer the care of our older adults becomes a pressing issue for us all. Health, social services and the wider community all share responsibility for stepping up to the challenge of providing sustainable, dignified care in the last part of our citizens' lives. Phyllis explores these issues and asks the vital question "How can we make the system work better for everyone?"
The play was a great success. It highlighted so poignantly, the significant struggles of people and their families to navigate complex health systems, know who to talk to and how to get the help they need. The characters were expertly brought to life by the fantastic actors.
Following the play, the audience had the opportunity to share their thoughts and views about what could help make the system work better for everyone in Milton Keynes.
Here is a round-up of what was shared with us:
• Society plays a key part in how the elderly are considered, supported and treated. Society is also very complex, and we must all take individual responsibility to support our elderly community
• There should never be a post code lottery when it comes to health and care – different health systems in the country must do more to share good and best practice – and implement it
• One point of contact is vital in complex health and care situations, where multiple professionals and services are involved. The group discussed that this happens in some areas, such as Cancer and Children's care but should be the standard for all conditions and people
• Advanced Care Planning is essential and as well as being embedded into health and care services, individuals and their families should be encouraged to have positive early discussions and prepare, including frank conversations about power of attorney
• High turnover of staff can affect people's health and care journeys
• Professionals working in the system should be listened to, and empowered to share their experiences and affect positive change for their patients
• Health and care services should create committees and advisory groups, actively seeking patient and family voice in how services are delivered, e.g. in Care Homes
• Young people want to help their families and we should enable and empower them to do so, giving the right support
• Being in hospital in such situations can be very daunting for the patient and their families, journeys should be made as easy as possible for people
• As a system, we should be able to recognise and act on the opportunities to prevent falls and the rapid health decline this can trigger in people
• Other areas have organised community 'freshers fairs' for older people – Milton Keynes should explore an event like this
• The play highlighted how anxious families can become when receiving 'eviction' letters from hospital. Milton Keynes Hospital's Patient Experience Manager was at the event and made a pledge to review the hospital's letters to patients about moving out of hospital into other settings.
• The CEO of Willen Hospice joined us, and shared that Willen Hospice offer advice and support about Advanced Care Planning: https://www.willen-hospice.org.uk/how-we-care/advance-care-planning
• The particular care burden on women in the community was raised. We must do more to raise the status of the caring role
• We must do more to integrate commissioning and reduce complex health and care journeys for our citizens, and their families
We would like to thank Women and Theatre for a thought-provoking production, and to the staff and volunteers at Camphill Milton Keynes for their support at the Chrysalis Theatre. We would like to thank those who joined us on the day. Healthwatch MK will be exploring events we could do in the future in partnership with the voluntary section and local NHS and Social Care services to build momentum of the ideas shared with us.