Self-Care and Wellbeing Information
The Milton Keynes Self Care Group formed in 2017 and is made up of local health & social care organisations.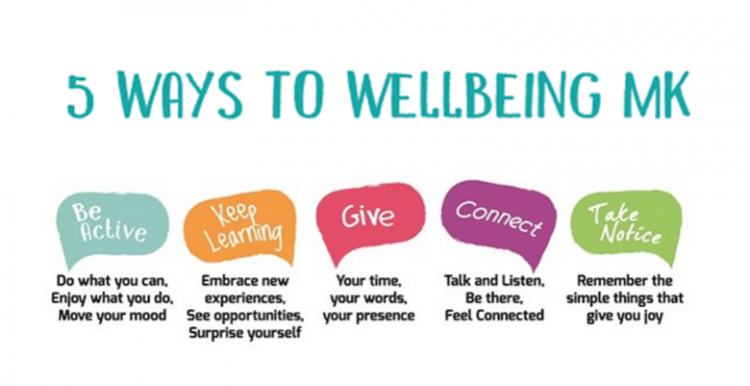 The Self Care Group work closely with a range of partners to provide leadership across Milton Keynes, supporting patients and the general public to improve their knowledge, skills and confidence when making health and social care related decisions.
We consider self-care in its broadest sense.  This means physical, mental and emotional health & wellbeing, which also includes family and community resilience.  This page contains information on our other work and a range of resources that the group has developed.
5 Ways to Wellbeing
In 2019, we held a workshop to explore how professionals and the public can work together to support the health & wellbeing of our local communities.  The recurring themes on the day were that there are already great things happening in Milton Keynes.  If we connect & share a bit more, it would help with promoting what's going on in our communities and help with spreading good ideas.  Many of the themes of the workshop are reflected in the Five Ways to Wellbeing.
It's easy for most of us to undertake one of the 5 Ways every day.  Many of us will already do at least one thing every day that can be badged like this – either as an individual or a group.  Organisations and services can also use the 5 Ways to promote what they do to support health & wellbeing.  We just need to spread the message!
#OneADayMK