Did you know that everybody in England has the right to access Primary Health Care?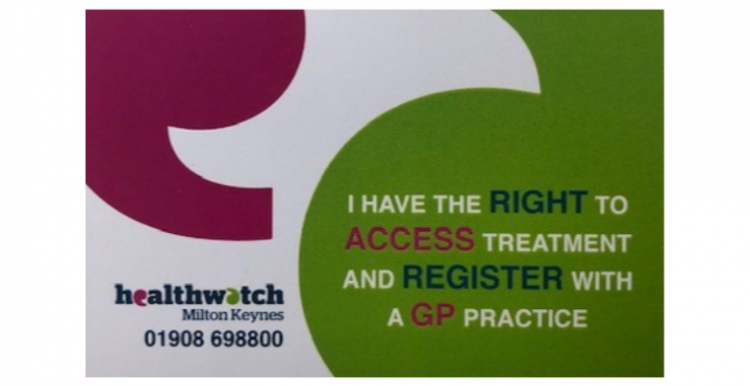 What documents do I need to register with a GP?
If you have identification and proof of address you should take it with you to register at your GP practice. However, some residents in Milton Keynes have told us that they have not been able to register with a GP practice because they do not have identification, a permanent address or no letters in their name with their place of address on.
The NHS policy recognises that to register at a GP Practice:
You do not need a fixed address
You do not need identification
Your immigration status does not matter
Struggling to access a GP Practice?
Healthwatch Milton Keynes has produced a 'My Right to Healthcare' Card (as pictured above). Contact us and we send a 'My Right to Healthcare' Card to you. Show the Healthcare card to the GP's receptionist when you register. The card is designed to help you understand and assert your rights to register. If you still experience problems, please contact us directly. 
If you work for an organisation that supports people who may struggle to register with a GP, contact us and we can provide Healthcare Cards that you can distribute through your organisation. 
The Healthcare Cards are invaluable and support workers carry one with them at all times
Want to know more about GP Access and Registration in Milton Keynes? 
We have published a report, 'My Right to Healthcare: GP Registration and Access', which contains more information about the NHS Policy, our research, and the recommendations we have made to improve the registration process for residents in Milton Keynes. 
Click here to read our report.